Iván Argote, Colombia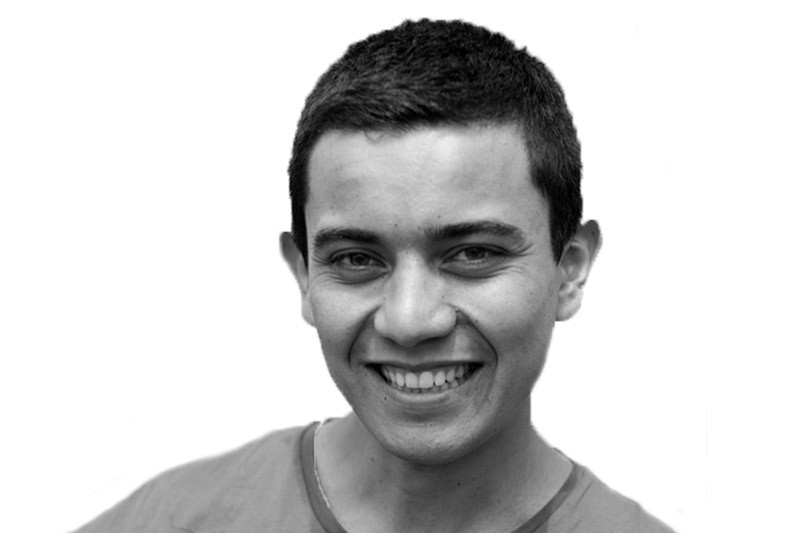 Ivan Argote studied design and new media at the National University of Colombia in Bogota and fine arts at the Ecole Nationale Superieure des Beaux-Arts in Paris. He works with different media: performance, video, photos, sculptures; paintings often share a rebellion and reflection on the look we traditionally ask about art humor. Paintings often share a rebellious reflection of how we look at art, combined with a black humor's ounce. The artist himself speaks thus:
My work reflects how we behave, how we understand our immediate environment, and how it is connected with the history, traditions, art, politics, and power. But as I don't take myself seriously when I create, I am perfectly free to work in different ways, which is also a reflection on the work of the artist.
Ivan Argote was the winner of the Audi Talents Awards Contemporary Art and Design 2013. Recent exhibitions include 18th Street Arts Center, Los Angeles, Palais de Tokyo, Paris Festival de Inverno de São João del Rei, Red, Paris, France, 30th Sao Paulo Biennial, Brazil.

With Public Delivery Exhibition Utopian Days, 2014
Utopian Days – Freedom
was an exhibition at the Total Museum of Contemporary Art, Seoul, South Korea's first private art museum. Later it was shown in the same city at the Nowon Culture and Arts Center.
Artists: Adel Abdessemed, Lida Abdul, Phil America, Ivan Argote, Chim↑Pom, Minerva Cuevas, Chto Delat?, Cyprien Gaillard, Yang-Ah Ham, Andre Hemer, Tehching Hsieh, Zhang Huan, Jani Leinonen, Klara Liden, Armando Lulaj, Matt McCormick, Filippo Minelli,
Wang Qingsong, Andres Serrano, Manit Sriwanichpoom,
Clemens von Wedemeyer, Kacey Wong, Xijing Men, He Yunchang.
More
Retouch, 2008
During his studies in Columbia, he was impressed by the fascination and aura that some artworks from art history possess. While he was still an art student in Paris, he covered two of Mondrian's paintings from the Centre Pompidou in graffiti with a Dada-like gesture. With this laughable action on the paintings under glass, he highlights or confronts himself to this fascination, questioning the accuracy of what is suppose to be vouch.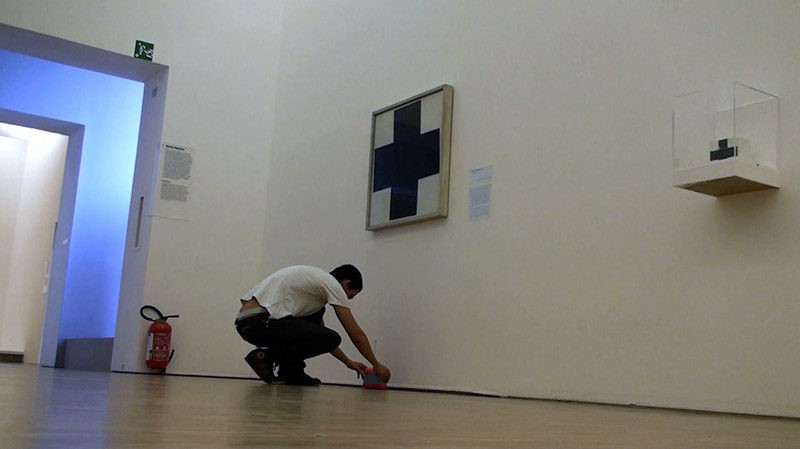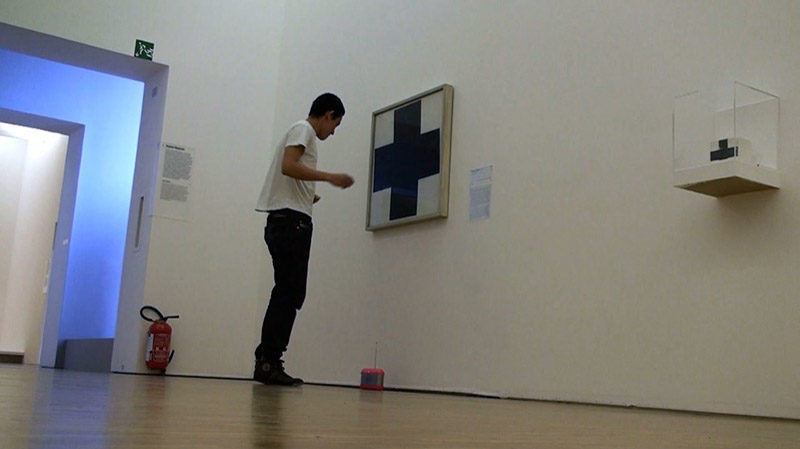 Feeling, 2009
Feeling was inspired by the Suprematism manifest, which Argote likes to quote the beginning of:
Under Suprematism, I understand the supremacy of pure feeling in creative art. To the Suprematist, the visual phenomena of the objective world are, in themselves, meaningless; the significant thing is feeling, as such, quite apart from the environment in which it is called forth.

The so-called 'materialization' of a feeling in the conscious mind really means a materialization of the reflection of that feeling through the medium of some realistic conception. Such a realistic conception is without value in Suprematist art… And not only in Suprematist art but also in art generally, because the enduring, true value of a work of art (to whatever school it may belong) resides solely in the feeling expressed.
He went with a radio and stood in front of Malevich's painting, Black Cross. He looked for a dance song on the radio that expressed how he felt and then danced along in front of the canvas. He conceived this project as a new lecture, an enactment of the text.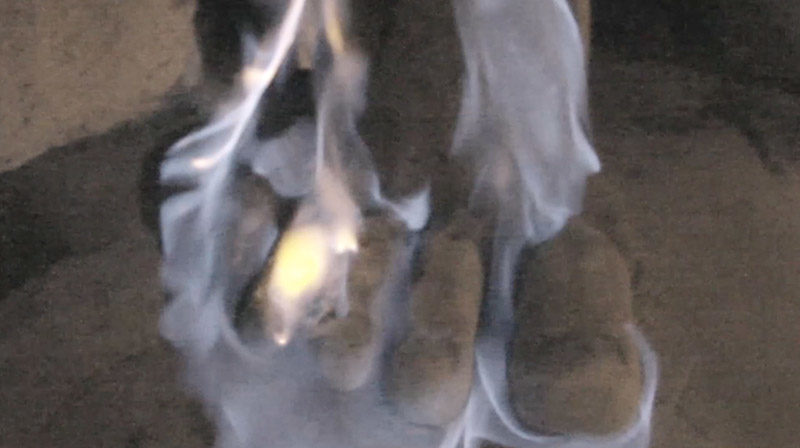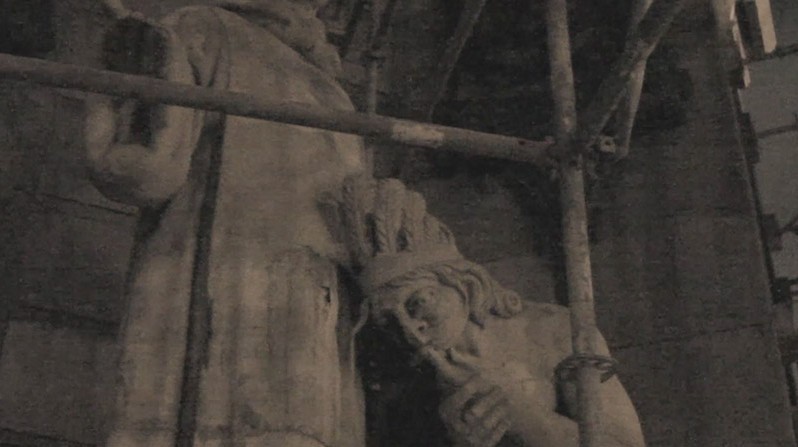 Barcelona, 2014
The video was shot in Barcelona, near the Christophe Columbus roundabout by the port. At night, Ivan Argote used absinthe to literally set on fire the statue that depicts a bishop show the right path to an indigenous man. This three-meter height statue is relatively unseen and anonymous in comparison to other historical monuments in Barcelona. Yet, Argote found it and created a strongly symbolic action that expresses the artist's disagreement with the European vision of colonization.