Zhang Huan, China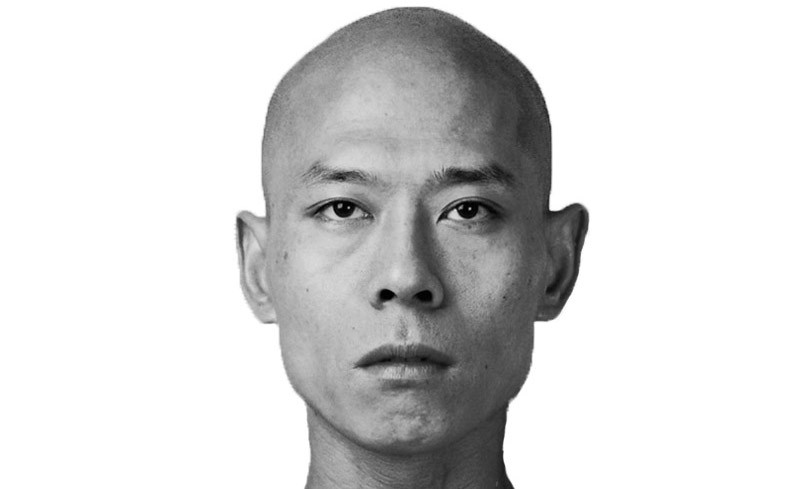 Zhang Huan (b.1965) began his work as part of a small artistic community known as the Beijing East Village which is located on the fringes of the city. The group of friends from art school pioneered a new brand of performance in China and officials perceived his actions as inappropriate and often reprimanded Zhang. His performances always involve his body in one way or another, usually naked and using simple repetitive gestures, regarded as meaningless work-for-work's-sake chores, and occasionally involving masochistic actions.
One of his photographs show him naked, with a half-shaved head, sitting in a prison like space- his skin wet and covered by flies. Although his face looked blank, he remains immobile and reaches a meditative level where the pain is thrown away. Through this, a religious ritual inherited from Buddhism, he seeks to discover the moment where the spiritual can manifest via the corporeal. In the nearly 40 art performances that Zhang Huan performed, he addressed a variety of issues such as the power of unified action to challenge oppressive political regimes, the status and plight of the expatriate in the new global culture, the persistence of structures of faith in communities undermined by violent conflict and the place of censorship in contemporary democracy.

With Public Delivery Exhibition Utopian Days, 2014
To Raise the Water Level in a Fishpond, 1997
Total Museum of Contemporary Art, Seoul, South Korea
To Raise the Water Level in a Fishpond, 1997
Nowon Culture and Arts Center, Seoul, South Korea
To Raise the Water Level in a Fishpond, 1997
6min 9sec
Beijing, China
Exhibited: To Raise the Water Level in a Fishpond, 1997
Zhang Huan invited about forty participants, all recent migrants from all over China, to the city of Beijing. They were construction workers, fishermen and laborers, all considered from the bottom of society. They stood around in the pond and then Huan walked in it. At first, they all stood in a line in the middle to separate the pond into two parts. Then they walked freely, until the point of the performance arrived, which was to raise the water level. Then they stood still. In the Chinese tradition, a fish is the symbol of sex while water is the source of life. This work expresses one kind of understanding and explanation of water but also that the water in the pond that was raised by one meter higher is an action of no avail.
From the blog
Chinese artist in suit made from raw meat (video)


Zhang Huan – My New York, 2002, Whitney Biennial, New York

Zhang Huan (张洹) is one of China's best known conceptual and performance artists. In his sculptures and paintings he references the history of his home country. As such, his pieces contain components of political, religious and intellectual messages as well as anonymous portraits and landscapes scenes. Most of his works have mainly been used to promote Chinese culture and to spread a message with the intention of sanitizing the city. In particular, the issue of toilets is very dear to him and it has helped him create one of his most famous performance pieces.

One of the most disgusting performance pieces ever made


Zhang Huan – 12 Square Meters, 1994, single channel video, 3min 2sec, documentation of a 40-minute performance

Zhang Huan is no stranger to controversy. Having attended school at a time when China was undergoing a dramatic time in its history, Zhang learned a lot from the years of protests and demonstrations that would be staged in front of the Tiananmen Square in Beijing. As an avid fan of Avant-garde art, Zhang did not really have adequate resources at his disposal that would allow him to execute his artistic vision. As such, and not surprisingly, Zhang decided to change the way he expressed himself by adopting a more provocative and transgressive form of performance art, which was later photographed and documented.

20 tons of incense ash to create 5m statue


Zhang Huan – Sydney Buddha, left: Aluminium Buddha, 370x290x260cm, right: Ash Buddha, 350x480x290cm, Carriageworks, Sydney, Australia, 2015

Zhang Huan, born in 1965, started out his career as a painter and then moved to performance art and then resorted back to painting. He is also a sculptor and photographer, but his main focus is being a performance artist. Throughout his career, he has made extensive use of ash, and even built a few sculptures with it. Zhang says that he considers ash to be symbolic as it represents the hopes and the prayers of those who usually burn the incense. To him, the ash sculptures represent collective blessing, memory, and soul of the Chinese people. The ash is collected from various temples in Shanghai, a time-consuming process that involves many hands.

Whole face painted black in Zhang Huan's Family Tree


Zhang Huan – Family Tree, 2000

Family Tree is a performance piece by Chinese artist Zhang Huan. Three calligraphers wrote a combination of names known to Zhang Huan, personal stories, learned tales and random thoughts on Huan's face.