He Yunchang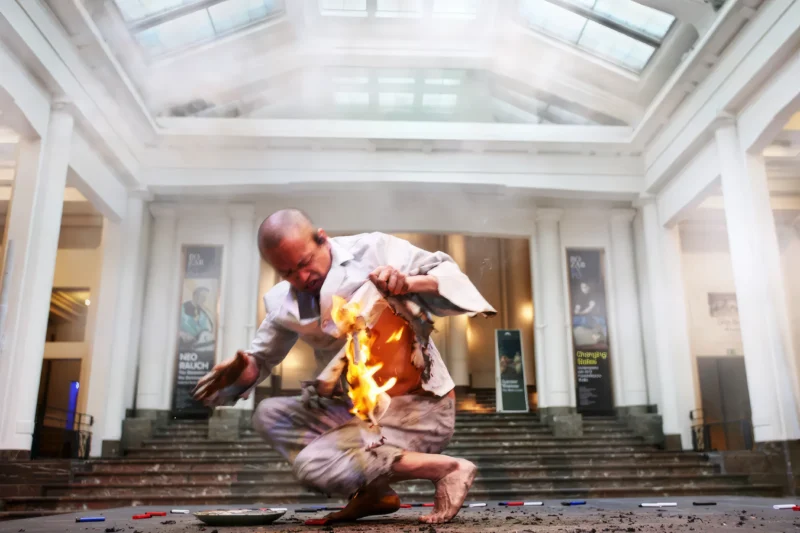 He Yunchang is a
performance
artist who specializes in undergoing extreme physical duress or injury; he later offers
photographs
,
videos
and
paintings
of the event for sale. Several of his works have been bloody processes in which incisions of specific lengths were made in various parts of his body.
His works are highly symbolic and referential and combine existentialism in contemporary China with traditional mythology and ancient philosophy – but the artist most often gets questioned about his continuing willingness to expend his body for the sake of his performances.
As a human being, I feel one should have a lot of pride, like a tree in the primitive forest. He should be able to grow freely. Maybe the wind will take away some branches and leaves, (but) it is normal.

I can not take too many restrictions. In doing performance art (like cutting the river with a knife and casting myself in cement), I wanted to overcome many things in the secular world and break its restrictions. (…)

And I feel in such attempts you can bring into play the fundamental and inherent attributes of life; namely what you can do on earth as a human being and to what extent.
– He Yunchang

With Public Delivery Exhibition Utopian Days, 2014
Utopian Days – Freedom
was an exhibition at the Total Museum of Contemporary Art, Seoul, South Korea's first private art museum. Later it was shown in the same city at the Nowon Culture and Arts Center.
Artists: Adel Abdessemed, Lida Abdul, Phil America, Ivan Argote, Chim↑Pom, Minerva Cuevas, Chto Delat?, Cyprien Gaillard, Yang-Ah Ham, Andre Hemer, Tehching Hsieh, Zhang Huan, Jani Leinonen, Klara Liden, Armando Lulaj, Matt McCormick, Filippo Minelli, Wang Qingsong, Andres Serrano, Manit Sriwanichpoom, Clemens von Wedemeyer, Kacey Wong, Xijing Men, He Yunchang.
More
Exhibited: Nirvana Flesh, 2013
In this work, the body is the material and subject. He is working on the interaction between human beings' sturdy will and the fragility that could appear at any time in their existence. During his performance, he puts himself in a dangerous relationship with the environment, both natural and cultural.
He Yunchang defines his own limits, physical and mental, to transcend them and showcase the human mind's strength. In April 2013, He Yunchang presented with Bozar and the Feizi gallery in Brussels the performance Nirvana Flesh, within which he put the clothes he was wearing on fire until he remained literally naked.
He Yunchang (何云昌) - Nirvana Flesh, 2013
From the blog