Yang-Ah Ham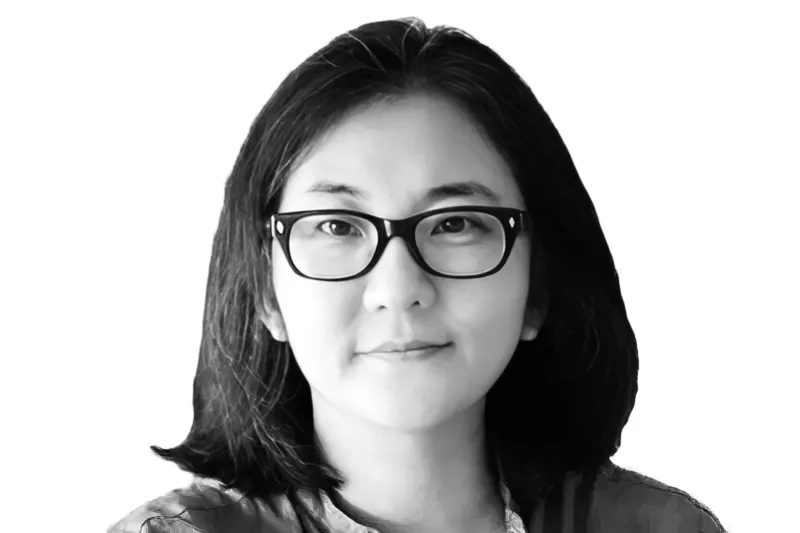 Yang-Ah Ham was born in 1968 in
Seoul
,
South Korea
. After studying in Seoul, she moved to
New York
, where she received an M.A. from New York University in 1997. In her
videos
, she creates, with different materials such as videos and
photos
, fiction that metaphorically narrate and depict a certain aspect and face of our society.
Themes like passing time and cycles are central subjects for her movies and investigations. The boundaries between fiction and truth are blurred to construct a distance to reality that speaks or points out complex issues, even taboos.
Ham has also begun focusing on the human's nightly dreaming as another natural cycle of nature. Her video functions like a mirror in which we can observe our society. The work parodies contemporary life like a theater of the absurd.
Her video work has been included in exhibitions throughout Korea and abroad, including the National Museum of Contemporary Art, Seoul (2011), Gwangju Biennale (2010), Busan Biennale (2006), and the Asian American Art Center, New York. In 2013 Ham was nominated for Artist of the year by the National Museum of Modern and Contemporary Art (Seoul).

With Public Delivery Exhibition Utopian Days, 2014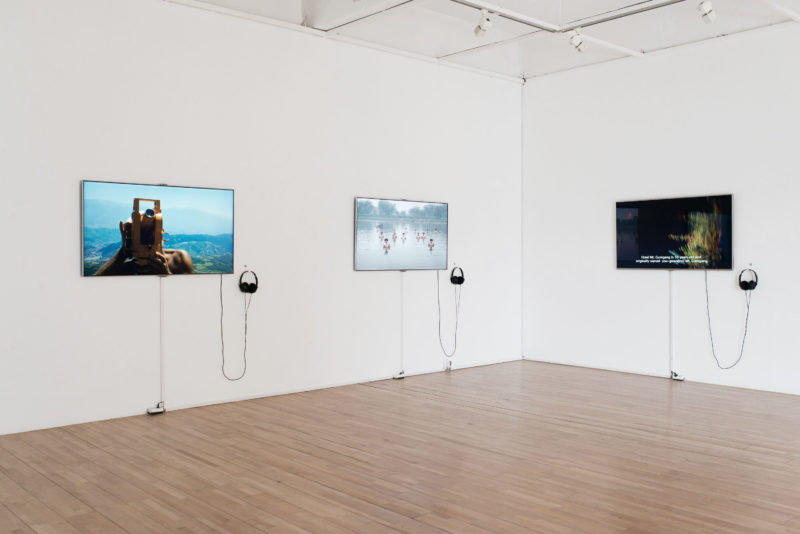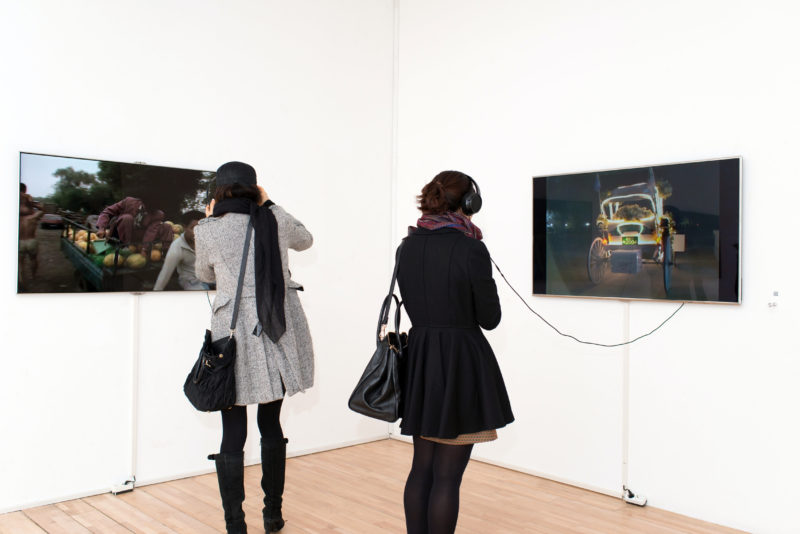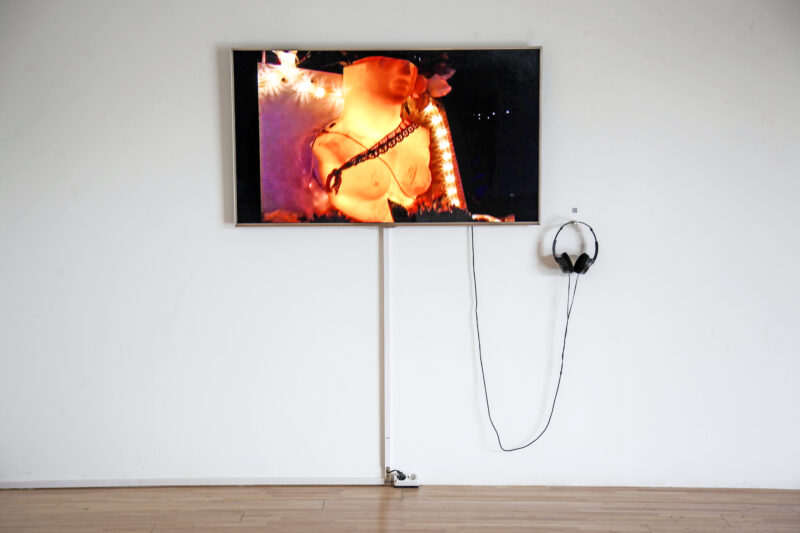 Utopian Days – Freedom
was an exhibition at the Total Museum of Contemporary Art, Seoul, South Korea's first private art museum. Later it was shown in the same city at the Nowon Culture and Arts Center.
Artists: Adel Abdessemed, Lida Abdul, Phil America, Ivan Argote, Chim↑Pom, Minerva Cuevas, Chto Delat?, Cyprien Gaillard, Yang-Ah Ham, Andre Hemer, Tehching Hsieh, Zhang Huan, Jani Leinonen, Klara Liden, Armando Lulaj, Matt McCormick, Filippo Minelli, Wang Qingsong, Andres Serrano, Manit Sriwanichpoom, Clemens von Wedemeyer, Kacey Wong, Xijing Men, He Yunchang.
More
Exhibited: Tourism in Communism, 2005
Tourism in Communism was filmed in 2005, the same year Hyundai Asan1 announced that the one million South Korean had visited Geumgangsan2, a North Korean tourist area considered sacred by many on both sides of the border.
The South Korean company, Hyundai Asan, developed resorts there with permission from the North Korean government. In 1998, they began to lead tours to the only part of North Korea that South Korea's general public could visit.
A gaudily decorated horse-drawn carriage with an enthusiastic, even exuberant, driver makes for a pleasant and amusing trip. However, the night landscape and propagandistic slogans posted along the way foreshadow actual events that were yet to come.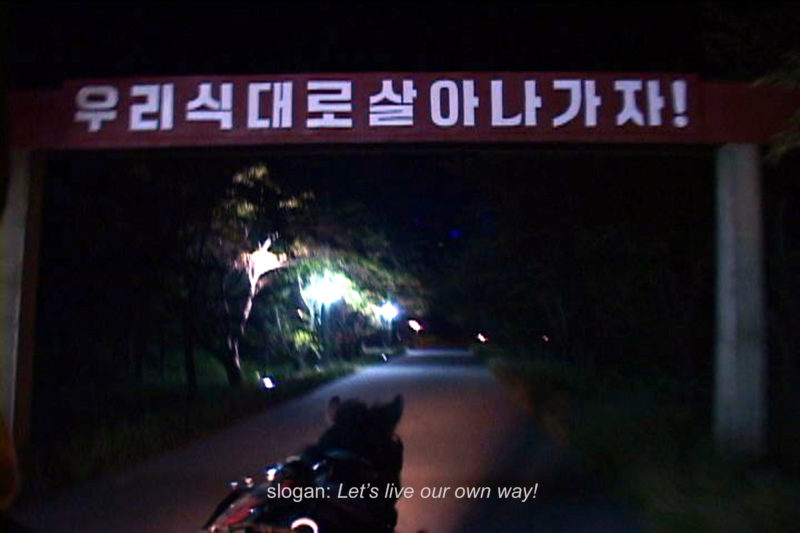 In 2008, a 53-year-old woman tourist, Park Wang-ja, was shot and killed by the North Korean military3 when she strayed into off-limit territory, and South Korea suspended all future tours.
In 2010, the North Korean government seized five properties4 owned by South Korea, claiming it was compensation for lost revenue, and opened the area to North Korean tour companies. Recently North Korea signed a memorandum of understanding with an American company to lead tours there as well.
Prior to 2010, United States passport holders were not granted tourist visas, except for visiting the Arirang Festival mass games. This film reflects a more hopeful time.

Footnotes