Jani Leinonen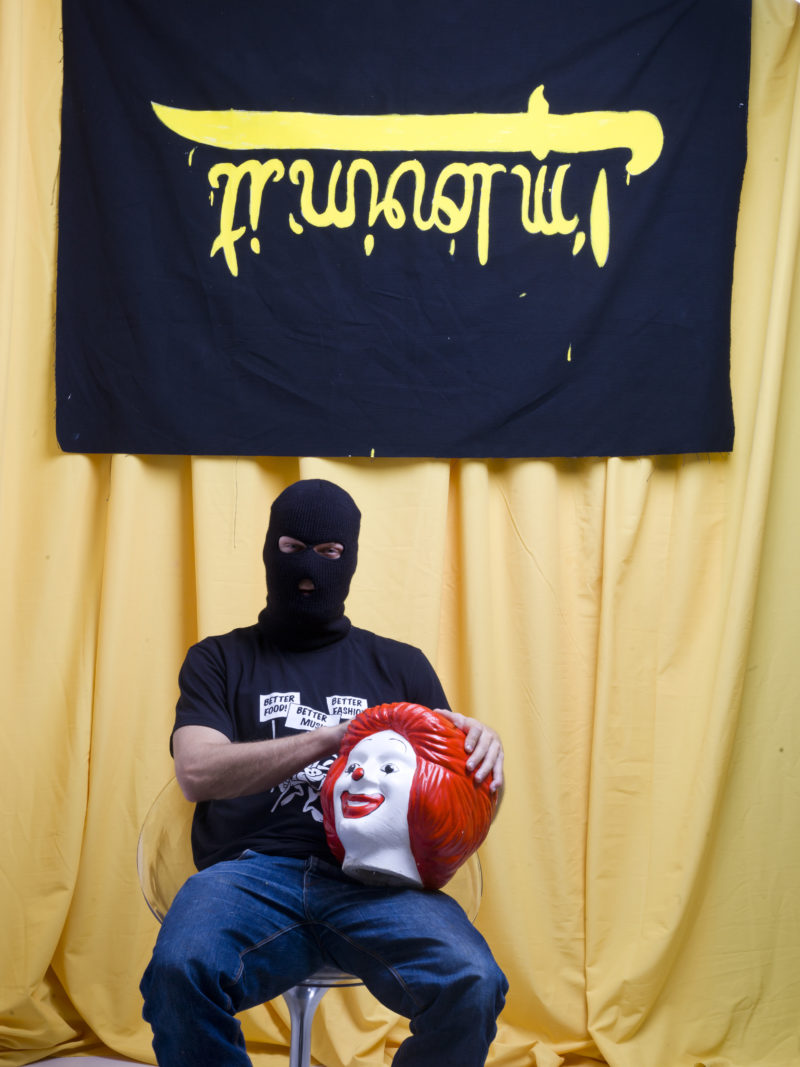 Jani Leinonen (b.1978) plays with the systems of commodity exchange and celebrity and the marketing strategies through which they operate. Leinonen attacks symbols and marketing strategies, turning them into objects of ridicule, creating clichés about our agreed marketing society and economics.
With these strikes, Leinonen unfolds the chain reaction we all are voluntarily involved in and plays up the iconographies of the global brand land. Leinonen's artworks are shops, bars, slot machines, even a fast food outlet1, but also traditional paintings.
What is displayed, though, are not goods but an artistic allegorization that appropriates these marketing strategies only to unhinge their underlying assumptions about value and appropriateness.
Leinonen graduated from the Academy of Fine Arts in Helsinki in 2002. His works have been exhibited widely internationally, i.e., at the Nordic Pavilion at the 53rd Venice Biennial, Galerie Gmurzynska, Wilhelm Hack Museum in Ludwigshafen and Frankfurter Kunstverein.

With Public Delivery Exhibition Utopian Days, 2014
Utopian Days – Freedom
was an exhibition at the Total Museum of Contemporary Art, Seoul, South Korea's first private art museum. Later it was shown in the same city at the Nowon Culture and Arts Center.
Artists: Adel Abdessemed, Lida Abdul, Phil America, Ivan Argote, Chim↑Pom, Minerva Cuevas, Chto Delat?, Cyprien Gaillard, Yang-Ah Ham, Andre Hemer, Tehching Hsieh, Zhang Huan, Jani Leinonen, Klara Liden, Armando Lulaj, Matt McCormick, Filippo Minelli, Wang Qingsong, Andres Serrano, Manit Sriwanichpoom, Clemens von Wedemeyer, Kacey Wong, Xijing Men, He Yunchang.
More
Exhibited: Food Liberation Army, 2011
In Jani Leinonen's Food Liberation Army, four men disguised as repairmen removed a Ronald McDonald statue from a Helsinki restaurant. Later on, McDonald's received a ransom demand, broadcast on YouTube, asking them to answer several questions about sourcing their food and their ethical stance.
McDonald's refusal to negotiate with terrorists (McDonald's spokesperson) resulted in Ronald's execution by guillotine. The video has received more than a million hits on YouTube and made international news, with the story being covered on Fox News, Bill O´Reilly, CBS, France24, Channel 4 and the Washington Post, among many others.
Execution of Ronald McDonald
From the blog
Footnotes