Kamin Lertchaiprasert
Kamin Lertchaiprasert, born in 1964 in
Thailand
, completed a BFA in printmaking at Silpakorn University in
Bangkok
. He earned the institution's Young Artist of the Year award in 1987 and later moved to
New York
to attend the city's Art Student League.
In 1992, Lertchaiprasert returned to Bangkok, and two years later co-founded, with Rirkrit Tiravanija, the Land Project (now The Land Foundation) and 31st Century Museum of Contemporary Spirit. This involved converting rice fields into a destination for site-specific art and architectural projects, creative residencies, and agricultural and artisanal workshops.
He has worked in a variety of media, including painting, installation, printmaking, and sculpture. To him, art aims to be the achievement of a greater understanding of oneself, nature, and the world as a whole.
Lertchaiprasert is deeply influenced by Buddhist principles. These principles were spread along the Silk Road, starting from the Ganges Valley in India, the heartland of Buddhism, and moving to India, Pakistan, Han China, Korea, Japan, and other countries. Lertchaiprasert lives and works in Chiang Mai, Thailand.
Read his interview
With Public Delivery Video festival Fairy Tales, 2015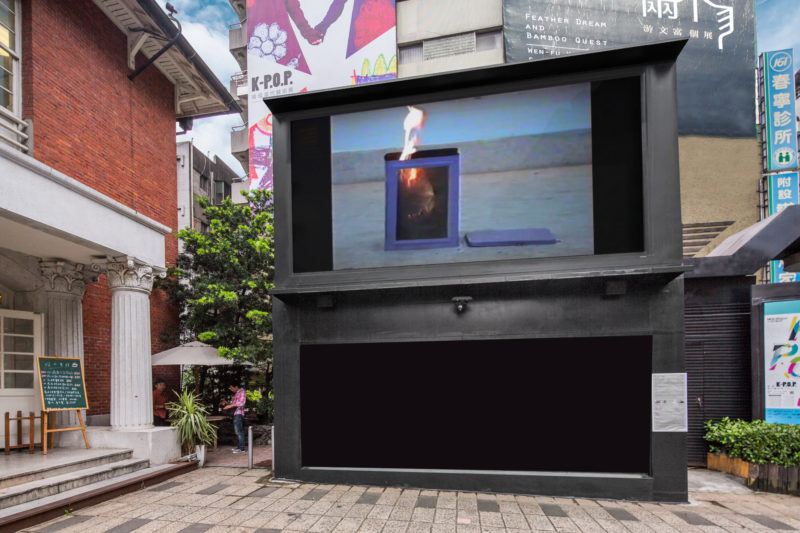 Fairy Tales
was a video art festival at the Plaza of the Museum of Contemporary Art, Taipei, Taiwan.
Artists: Lida Abdul, Said Atabekov, Mohamed Bourouissa, Chen Chieh-Jen, Cao Fei, Yang Fudong, Cyprien Gaillard, Dejan Kaludjerović, Mari Kim, Kamin Lertchaiprasert, Taus Makhacheva, Almagul Menlibayeva, Mariko Mori, Ahmet Ögüt, Adrian Paci, Public Delivery, Wang Qingsong, Walid Raad, Cheng Ran, China & Item Idem, Taps & Moses, Guido van der Werve, Erwin Wurm, Miao Xiaochun
More
Exhibited: Drawing to Spirit, 1992
The video plays witness to a two-year period during which the artist made thousands of drawings and then later burned them all in an exhibition. Through this, he explores the value of art and art-making and whether it resides in the work itself or the process of making it.
For him, the visual expression is characterized as a dialogue with vital energies of mental and physical life where the spirit cannot be divided from morality. Therefore, he considers art's potential role in a common culture of positive sentiment.
Speaking on creativity and his role as an artist in our society, Kamin Lertchaiprasert says1:
The purpose of the activity is beyond self-attachment and gives them the freedom to express themselves and learn to understand life and nature, overcoming their limited knowledge through true wisdom.
Kamin Lertchaiprasert - Drawing to Spirit, 1992
Lertchaiprasert talks Drawing to Spirit with Public Delivery (2015)
Talk by Kamin Lertchaiprasert (คามิน เลิศชัยประเสริฐ)
Read the transcript
Footnotes